Stretch Wrap - Hand-Grade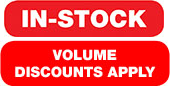 FOB: Oregon Warehouse (Models SW051152, SW051205, SW051125, SW05130, and SW051215)
Alaska Warehouse (Models SW051150-AK & SW051205-AK)

Call for Pallet Load Pricing

High-quality packing and shipping wrap for a great low price.
Outstanding tear resistance, excellent cling and superior stretchability – stretches more so you can use less.
See-through for easy product identification.
Helps prevent moisture damage, dirt damage and theft.
Model SW051215 comes in Black
7 sizes available.

Machine-Grade available upon request.

Quantity discounts apply.